The AmeriGreen Story
At AmeriGreen Solar, we understand that you have a choice when you go solar.  We are Southern California locals and we know what it's like to pay costly energy bills, especially during our scorching summer months.  To do our part in serving the community, our mission is to help as many Americans save money by  Going Green.
AmeriGreen is one of the fastest growing companies in Solar, Roofing and Window installation.  We are a multi generational family owned and operated business with  30+ years of experience.  We focus on residential dwellings with a emphasis on integrity and customer service and we are also equipped to handle commercial projects.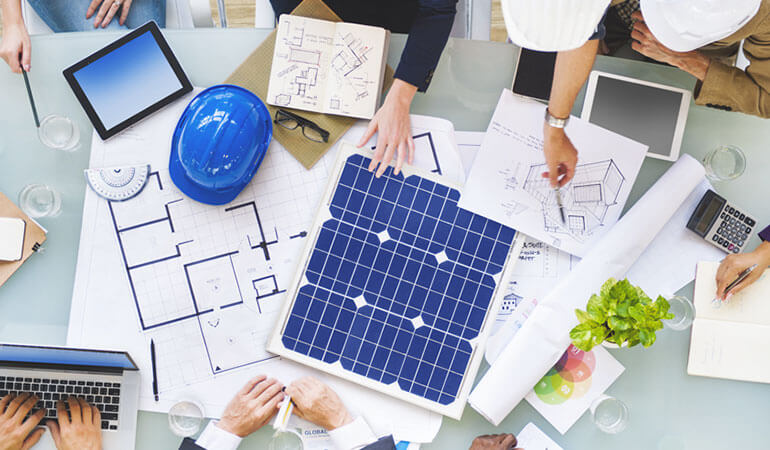 Adrian G.
February 6, 2021.
Great experience all around, highly recommend AmeriGreen Solar, read on: Background: I came into this project as an educated buyer having done a 15 panel install seven years ago with a different provider. I have a flat roof and room for many more panels and a need for more production (previous install falling far short of need as was done without any historical data). The initial impetus however was a roof leak on a 15 year old roof. I got bids from two roofers and two solar providers the latter two for both roofing and solar work. The roofers came in a bit lower than the solar roofing and the two solar bids came in close to each other. I was leaning toward doing the full solar and roofing because it seemed like a good opportunity to fix the roof and do the solar at the same time. The AmeriGreen experience: Guy is the sales guy and he's a measured and knowledgeable guy without salesly flourish. He was easy to work with and talk through options and he gave a professional proposal. A key with contracting is if  this guy is going to be there for me after the sale if anything comes up (which it always does) and if he's going to be someone I can always escalate to if needed. I felt good about him and about AmeriGreen after some further background research. I signed and we got going. What happened next is the AmeriGreen secret sauce. I never spoke to Guy again (even though two medium sized issues came up during the project execution). Why? Because Guy expertly handed me off to Rose the project manager (PM). Mind you I still felt that I could escalate to Guy if I needed to. Rose was amazing, constant and professional communication on next steps, crew ETA, next steps, inspections, everything. You can measure a company on how well they handle the eventual issues/problems that arise. I mentioned we had two issues and Rose took immediate ownership of them, adjusted the project plan, kept me informed and everything worked out. Many companies try to do this sales to PM handoff but I've never seen it done this well. I'm happy now with a roof that didn't leak during the recent downpour and have 34 panels harnessing the sun's power.
Tina N.
December 28, 2020.
Guy, Albert and Rose did a great job with our solar project.  Guy did a great job with his presentation and gave us a lot of insight on solar.  I received quotes from several installers and they were very competitive in terms of pricing.  Albert and his team showed up on time and completed the job in the same day.  Rose was phenomenal and was in constant communication via email & text message.  There was a lot of unnecessary back & forth with Edison to approve our project and Rose was always quick to respond to address their issues. They performed with a great sense of urgency to have our solar project completed prior to year-end to take advantage of the 26% tax credit.  Thanks again!
Dale G.
December 8, 2020.
We just finished our installation and both Guy and Rose where just the best helping us every step of the way. These two delivered on every promise they made on their first sales visit. It was virtually painless working with them. Would highly recommend AmeriGreen
John G.
November 27, 2020.
You can read my long review if you like but if you want to cut it short, I am very pleased with the final product provided to me by AmeriGreen Builders.  I was especially pleased when the first rains came and there were zero leaks in my now new roof.  I was also pleased with the roofer going a bit above and beyond to fix aesthetic things that were not part of the contract but that made the roof look way better when he was finished.  The electrical work was clean and they kept things in places that worked aesthetically.  Overall, a very good job. Guy is very knowledgeable about the various technologies and he was instrumental in guiding me to the final technology choices that ended up on my roof.  His choices appeared to be based on a long discussion he had with me before putting the bid together, and as I educated myself on the various options, I came to agree with his choices of a top quality microinverter set and an American based company that made the solar panels. I received three responsible bids on my job and AmeriGreen was the middle one.  I decided to go with them because their contract was a bit cleaner than the low bid, who appeared to write a contract that was designed to make money on change orders. Of course there are always bumps and things that happen along the way so I will never say the job went perfect but in my many decades of working with contractors I have yet to have a job go perfect.  The measure of a contractor in my mind is how they handle the challenges that come up on the job. The first bump on the road was when we discovered that the roofer who was part of the original bid had not maintained the certification required for the warranty that was part of the bid.  Guy originally wanted us to pay more as part of the solution but when we communicated that was now a deal breaker as the bids had been received he found another roofer to do the work at the original price. Second bump had to do with timing.  The contract allowed for about ten weeks to do what was essentially about 2-3 weeks of work.  I was not paying close enough attention and should have worked to tighten the schedule as it ended up being quite the challenge to have to be in town for 10 weeks making ourselves available for construction.  I would have preferred a tighter window that allowed us to go on vacation rather than having to be constantly available for 10 weeks.  AmeriGreen held to the contract and beat the deadline by a few days so the hassle here is on me for not paying closer attention to contract details and making sure they worked with my other plans. Last minor bump was when a subcontractor damaged my driveway.  This could have been a big deal if AmeriGreen wanted to say this was not their fault but they stepped up and sent a guy out who did an excellent repair.  Other minor bumps were usually communication issues as I am rather abrupt in my communication style and I think Rose thought a couple times that I was questioning AmeriGreens integrity when all I thought I was doing was being diligent. Last issue was a non-issue also but is worth noting.  There is a lag time between when the roof warranty actually shows up and when the job is complete, which is generally when final inspection sign off is received and final payment is triggered.  I decided to withhold final payment and let it accumulate interest per the contract until I received my warranties.  This ended up costing me 100 bucks and Guy actually tried to not take it - I insisted.  If this is an issue for you then make sure final payment is triggered on delivery of all things contracted for and not upon final inspection, which might precede final delivery of all documents and will definitely precede interconnection and proof of actual generation.
Cody G.
November 11, 2020.
Guy the owner of this company creates a very hands on professional Solar Presentation that's easy to understand and follow and helps guide you to the right solution for your home and needs in particular. His Production team delivered a fast easy clean installation and setup of our New Solar System! I would highly recommend them if you want quality people to work with.
pablo s.
October 29, 2020.
Great company, great people and a great outcome! Getting solar can be overwhelming. This is my second time going through this process and I'm an engineer that loves this kind of thing - still there's so much to consider and get lost on that it's really important to find a good company that you can trust. Amerigreen is that company. Guy was very responsive and helpful from the beginning and gave me a feeling of confidence in them. From there I went to Rose, who managed my project perfectly. She was on top of everything and presented all the options when we hit a snag with my existing electrical panel. She was very clear in her communication and I definitely felt well taken care of with everything that had to happen - plans, permits, scheduling, etc... They were both very quick to respond to all of my questions over text, email or phone. The crew was great, professional and also open to all my questions, requests, etc... At the end of the day, my solar got turned on a week or two before I expected it to be on, so they definitely underpromised and over delivered. I definitely recommend Amerigreen to anyone who's looking at solar and I'm very happy with how much electricity is pumping from my roof now. Thanks!
Robert G.
August 14, 2020.
Cody, Guy & Rose were amazing every step of the way to converting our home to a Solar home!! From explaining every detail on pricing & different options to all paperwork from permits, loans, installation, etc.... they were all very professional and guided us every step of the way & made this decision a very easy one for me & I highly recommend them for all your Solar needs!!! Thanks "A" (AmeriGreen) Team!!!!
Solar has been a long time coming. I'm writing this review based on the incredible service that AmeriGreen has provided. From start to finish they were on it. I had several quotes from multiple companies and not only was there price better then most but really explained how this works. It can be very overwhelming with so much information and understanding Solar but they really helped me understand the process with so much patience. The team works very hard and that's what I appreciate about them. The installation was done in one day and they did a nice job with the esthetics. It was very clean which mean they understand and care for what customers want. I've recommended several friends and neighbors to them and they all thanked me for the referral as finding the right Solar company can be stressful. Thank you Amerigreen for your service and look forward to lowering my bills.
Had an amazing experience with Amerigreen from the start! I met with Guy who was very knowledgeable and accommodating. We were very skeptical about getting solar as it seems everyone is just selling you what they want without the best interest of the consumer. I threw millions of questions at Guy and he was so helpful it put my family and I at ease. There was no upselling which was great and what I was really expecting. He treated the entire process as if he was the homeowner. This type of service goes a long way and is the main reason for the review. The installation was extremely quick and looks amazing. We get compliments on it ALL the time. Besides the fact that our energy bill has been incredible. Guy walked us through everything including the loan process and didn't stop following up until all was completed. Much appreciation to Amerigreen Solar and more specifically, Guy. I hope everyone has the same experience we did.
Denise R.
February 5, 2020.
A year ago I called a number of solar companies but chose Amerigreen.  I needed additional solar panels but I also needed a new roof.  Amerigreen took care of everything in a professional, timely manner.  The owner, Guy, always responded when I called him with a question.  Months later after a severe rain, I noticed a small leak.  Again, they responded and took care of it.  Today I called because one of the panels blew off due to severe winds.  They already sent someone and it will be repaired tomorrow.  How great for a company to do quality work and be so responsive!  I highly recommend this company.
Yelp rating score: 5 of 5, based on 50 reviews.